A beautiful, relaxing and wondrous trip down the long and winding, rugged green west coast of Ireland will build your health and energy better than any medication. The west coast of Ireland is a great place to go to see amazing landscapes such as the huge flat topped mountain of Ben Bulben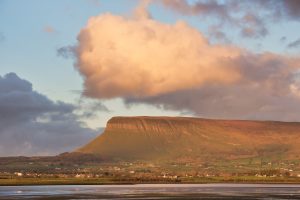 , verdant greenery, the wild Atlantic Ocean,  where the next stop to the west is America, experience fresh clear air and find fantastic fresh food of all kinds. Take it easy and see all the sights, or go surfing with some superb large wave sites such as Mullaghmore. There are plenty of places to stop off for the kids to play and let off steam and for the adults to enjoy an eating experience, including barbecuing fish fresh from the boats at Rosbeg or cultural visits such as Yeats' grave or the
Museum of Country Life.
Ireland's west coast is deeply indented and the 1500 miles (2500 km) of road in this area will take you to every last corner of what is now called the Wild Atlantic Way, round the capes and even out to some of the islands from Donegal in the North to Cork in the South.
This is too long a journey for one post, so just enjoy a few stops in the North West of this area.